7 new innovation projects worth a total of nearly 17 million euros get underway at Eindhoven Engine
Eindhoven Engine, the innovation accelerator of the Brainport region, is launching seven new innovation projects. These projects in the fields of energy, health and smart mobility will undertake research in the coming years with a total budget of almost 17 million euros, to which Eindhoven Engine is contributing a total of over 2.4 million euros. The investment for the Eindhoven Engine OpenCall 2022 comes from the Brainport Region Deal.

Join the Hack2Impact Health@Home hackathon
On 20 May (7 PM) to 22 May 2022 (6 PM), Eindhoven Engine, Eindhoven University of Technology, MIT Hacking Medicine and Fontys are excited to invite you to join the Hack2Impact Health@Home hackathon!

Would you like to work in teams on new cool solutions for health@home related challenges provided by our challenge owners from healthcare and industry? And are you a student, technical or medical professional and you want an amazing learning and memorable experience? Then you should register for the 2022 Hack2Impact hackathon!
Business Model Innovation in an Exponential World Eindhoven Engine, a 4-day course
Does your project team want to learn how to create impactful, scalable & economically viable solutions based on the potential of exponential technologies? Trainers Walter Baets & Jaco Friedrich welcome you to their new 'Business model innovation in an exponential world' training organized by Eindhoven Engine & The High Tech Institute.

Training course dates: 1, 2, 7 and 8 June 2022

Location: live on colocation @ Eindhoven Engine
Crossover of two Eindhoven Engine projects
Meaningful crossovers can found at all levels and at the most unexpected moments. An awesome example is from the project SmartMan. One of the project's students will carry out his graduation internship at one of our other Eindhoven Engine projects, Carbyon.
Lotte Geertsen, Project Leader Emergence Lab
The Emergence Lab philosophy is all about the wider prosperity of our Smart Society. After all, everyone should be able to be part of it! Using 'Smart Society' as an umbrella, we work on impactful themes such as
Inclusiveness

Quality of Life

Future of work.
These are themes that affect us all.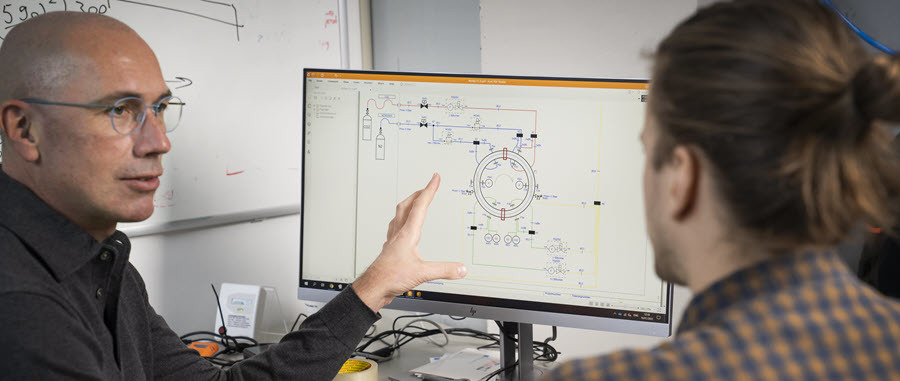 Update Carbyon project
Carbyon uses TNO technology that is now being further developed, at the basis of which is a breakthrough air-permeable membrane that has been modified to absorb CO2 when air is blown through it. And they did win a 1M$ award from Xprize Milestone Award!
New project leader Medicaid project
Hi, my name is Mylene Frankfort and on April 1st I started as a project leader for the Eindhoven MedTech Innovation Center (e/MTIC).

Together with the Recover@Home student team, we will work on remote healthcare solutions to enable the recovery of patients at home, focusing specifically on innovative ways to assess quality of life and patient/staff experience.
Hack2Impact Hackathon
Date: 20-22 May 2022
Location: Disruptor, TU/e Campus
Hannover Messe
Date: 30 May - 2 June 2022
Location: Hannover Messe, Germany
Business Model Innovation in an Exponential World course
Date: 1, 2, 7 and 8 June 2022
Location: Disruptor, TU/e Campus